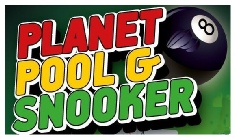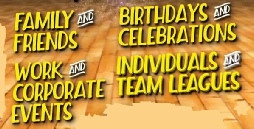 Planet Pool and Snooker.The Entertainment Venue.
No Membership Required.
Jersey's Undisputed No1 Cuesports Hall & Bars.
The perfect venue for fun with your friends!
Finalists Rachel Sutton
and Ruth Vaudin
The 2015 Channel Islands Ladies Pool Championships took place last weekend at the Mariners Inn. Over the course of four knockout rounds, much quality pool was played and, with a balanced draw there were no easy passage to the final for anyone.
In the opening round, defending champion Rachel Sutton was drawn against Annie Wilkins and Annie started quickly taking the first frame. Sutton responded in kind to tie up the match before getting the better of some tight frames to take a 4-1 victory and progress through. Denise Cull and Kate Le Gallez fought out a first round match that flowed one way then the other. Kate Le Gallez took a 3-0 lead, requiring only 1 more frame to win, only for Denise to pull two frames back to leave the match at 3-2. In frame six, Denise was on a clearance and left herself a black down the rail to take it to a decider. Unfortunately for Den, the black rattled in the corner pocket. Kate came back to the table and took out a 6 ball clearance to win the match 4-2.
In the other half of the draw, Becci Welsh played Yvonne Bogue in round one. Using her experience, Becci Welsh opened up a lead only for Yvonne to peg her back and make a match of it. At 3-2, Becci had an opportunity to close out the match and she did so and progressed to the last eight with a 4-2 win.
The Quarter final draw saw Rachel Sutton v Danielle Leadbeater; Kate Le Gallez v Claire Le Cheminant; Ruth Vaudin v Sian Butt and Becci Welsh v Cindy Lawson.
Ruth Vaudin, 2014 CI International Champion and reigning Island Champion, battled with Sian Butt for a place in the semi-finals. This was a close match with excellent pots being made by both players. Ruth managed to get the better of Sian as the match reached the latter frames and won 4-2. In the other three matches, only 1 frame was conceded by the victors. Rachel Sutton won 4-0 over Danielle Leadbeater, Kate Le Gallez beat Claire Le Cheminant 4-0 and Becci Welsh beat Cindy Lawson 4-1.
The most tense matches in the tournament came in the Semi Finals. Rachel Sutton and Kate Le Gallez fought tooth and nail throughout with Le Gallez going one frame up before Sutton would answer back. This pattern continued right up to 4-4 with both players potting well and playing safe when required. The last frame could have gone either way with both players missing out on taking the frame early. The match came down to one moment, Le Gallez missed a cut into the corner, leaving her ball in the jaws of the pocket. Sutton used all of her experience to somehow fit her yellow ball between Le Gallez's ball and the pocket leaving Kate with a tough shot to somehow release her ball from the corner. Kate tried to flick her ball away from the pocket and narrowly missed, giving Sutton 2 shots to pot her yellow over the bag and the black. Rachel held her nerve and got the job done to win 5-4.
The other semi final seemed to be going in a similar vein as Ruth Vaudin opened up a lead only for Becci Welsh to respond. The only difference in this match was that Ruth opened up a 2-0 lead before the score went 2-1, 3-1, 3-2, 4-2, 4-3. In frame eight, Becci seemed to be on the path to draw level but Ruth saw an opening and went onto take the frame and win 5-3.
The final was a repeat of last year's CI Championship and a renewal of many battles over the years. Rachel Sutton v Ruth Vaudin in the final had a very familiar ring to it. The opening frame was taken by Sutton before Vaudin capitalised on a missed black by Sutton in frame 2 to level the scores at 1-1. Rachel Sutton opened up a lead by taking the next three frames and move to 4-1 up. Each frame as the final progressed offered up chances for each player. It was Sutton who was more consistent and although she lost frame six, she took frames seven and eight to run out the winner 6 frames to 2.
An excellent day's pool at the Mariners Inn and thanks to Simon and Sarah for hosting the event. Thanks also to the Guernsey Pool Association for running the event on behalf of Team CI and the Channel Islands World Pool Association.
at the Mariners Inn, Guernsey